How do young children understand the contextual boundaries of rules?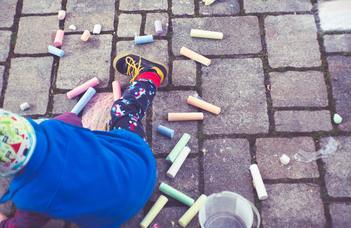 In our daily lives, we are members of many communities. It is often the case that certain words or gestures have different meanings outside and within a given community.
In our current study for children aged 3-4, we are aiming to find out whether children are already sensitive to the boundaries within or outside which certain gestures or requests can be interpreted differently. During the game, two of our colleagues play together with the participating child, and with known objects. Some of the games have rules that include pairs of objects that constitue a part of our cultural knowledge (for example, the key opens the lock), while others create a new situation invented on the spot (for example, the key in this case is a small spoon which can be used to mix all kinds of drinks in a cup). During the game, one of the experimenters is constantly present, while the other observes the games in certain situations, but leaves the room in other situations. At the end of each play episode, the second experimenter sits at the table, and decides to play herself, and we plan to explore the reasoning of children about which game is she planning to start: the invented one or the one that could be know to all members of a culture.
The results show that children at this age take into account whether she was present during the games or not. For example, in case the experimenter witnessed the play episodes, they were more likely to select the object that corresponded to the key as a spoon (the cup). In contrast, in case she was absent from the room in this period, they chose the lock as this could be known by anybody who is part of the same culture as the child.