Let's think about what happened last time - Memory development in children aged 2 years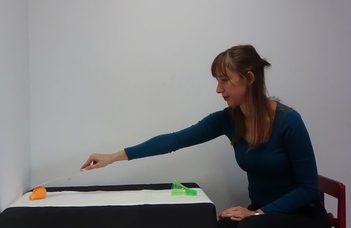 In our research, we studied what two-year-olds remember from an event. Whether they remember only what is important to achieving their goals, or details that don't matter in the given situation? Our study revealed that two-year-olds do not yet remember events, but rather focus on actions, scenarios ("how to do it" rather then "what happened").
To answer our question, we tested children two times with one week passed between the two occasions. For the first time, an experimenter showed the children how it to make toys (horn, propeller, and bullet) from two parts. There was an unnecessary step in the process: even though the second part of the toy was close to the presenter, they pulled it to themselves by a kitchen spoon. After the presentation, the experimenter encouraged the children to play with the toys. 67% of children didn't use the kitchen spoon to reach the toy, and 22% of the children used it only for reaching one toy. Most of the children realized cleverly, that they didn't need the tool for reaching the toys, therefore they didn't use it. The second time the experimenting situation was different: the toys were only reachable by using the kitchen spoon. This time the experimenter didn't show the children the usage of the spoon, so they had to remember the other occasion to solve the task. This was achieved by about half of the children (56%), but it seemed that the others had forgotten how to use the tool for achieving the goal.
We infer from this that children at this age do not remember events, but rather focus on actions, scenarios ("how to do it" rather than "what happened").