Look what's happening on screen!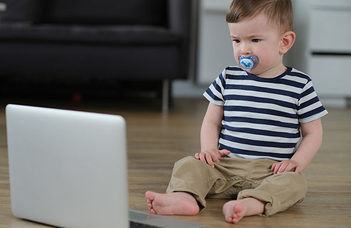 In this study, we aimed to explore whether children understood events differently depending on the medium through which they observed them (e.g., pre-recorded video, live video-chat) During the experiment, 18-month-old babies were presented with a simple event, during which an adult hid an object in one of two boxes. The children observed this event either live in-person, live via video-chat, or through pre-recorded video. Following each event, the children were given the boxes they had seen on video. We then recorded where they searched for the hidden object. Thus this paradigm allowed us to explore children's understanding of the observed events' informational reliability. For example, if they thought what they had seen on the video-chat provided information related to reality, then they would look for the object in the box it had been hidden in.
Our results suggest that 18-month-old babies can distinguish between pre-recorded videos and interactive events via video chat. Children were more likely to search in the box which hid the object when they observed the hiding event live on video-chat (78%) compared to pre-recorded video (44%).
There are still open questions: What would young children think if an animated character hides an object on a video-chat like event? Did children think the video-chat event provided relevant information to reality because their parents said hello to the adult on it? So further research is needed to understand better what children think about the relationship between what happens in video-chat and reality.